Factory 4.0: what does the operator become ?
A new organization of means of production, the Industy 4.0 aims to set up intelligent factories offering greater flexibility in production and more efficient management of all resources (equipment, materials, energy, human). At the center of this industrial revolution is the operator!
What does the future plant look like?
More competitive and more flexible, the plant of the future offers a response to the diversification of needs in ever shorter time frames. Energy performance and respect for the environment are essential components of the industry of the future.
Data as well as the flow of information is an essential part of this industry of the future. Computing and digitization must bring many solutions.
Within this all-digital factory and contrary to what one might think, the operator occupies a preponderant place because everything is not that robotic and bigdata.
Man is the producer, the digital is his operational support to enable him to refocus on tasks with higher added value.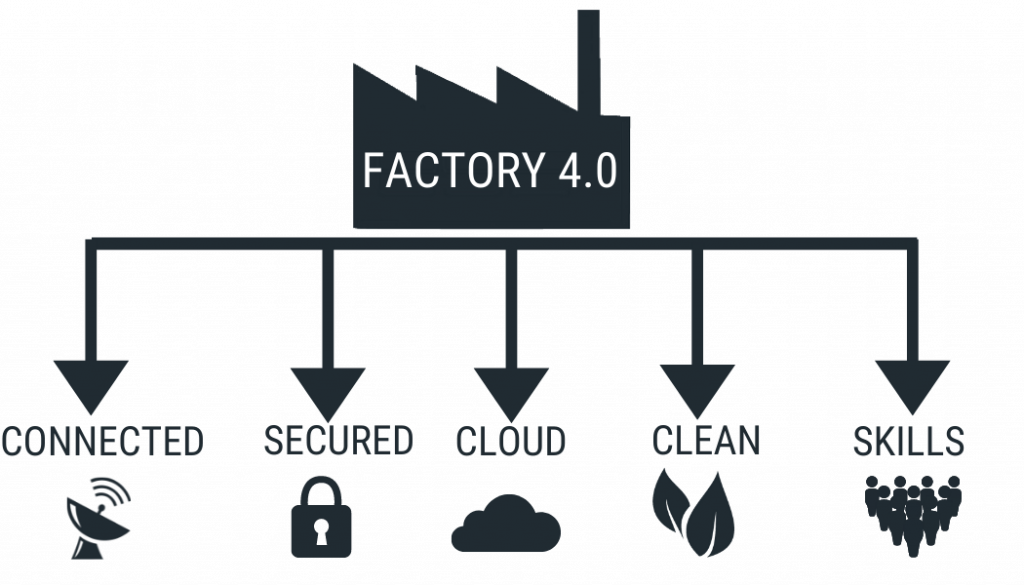 The production operator at the heart of this digitization
It is within the framework of this digitization that the MES software intervenes. It is the digital tool of production operations. Integrated into the production tool, the MES software is always linked to the ERP and sometimes with the PLM, WMS or CMMS software.
It positions the operator at the heart of the device of the plant of the future, it is its tool, its ally.
Scalable missions for the operator
Everyone knows, the role of the operator is to produce, to drive his machine or his line. He must prepare the production according to work vouchers and a work schedule. This employee must ensure his production, maintain his position and achieve the expected results.
Over the years, and without a doubt to answer problems, files or files have been put in place: planning, OFs, documentation, controls, time tracking, quantities, 5S, maintenance of level 1, record of materials, … they all accumulated gradually transforming (probably by exaggerating) the operator as an administrative assistant!
MES Software for Dematerialization
The MES software digitizes all day-to-day operations, starting with production orders, self-checks, maintenance, and time tracking and continuous improvement processes (lean, 5S, SMED …).
The MES software frees the operator from the "paperwork" always more numerous and heavier, to suppress the entries and double entries, to limit the errors and especially to remove the time lost to correct them.
L'human and factory 4.0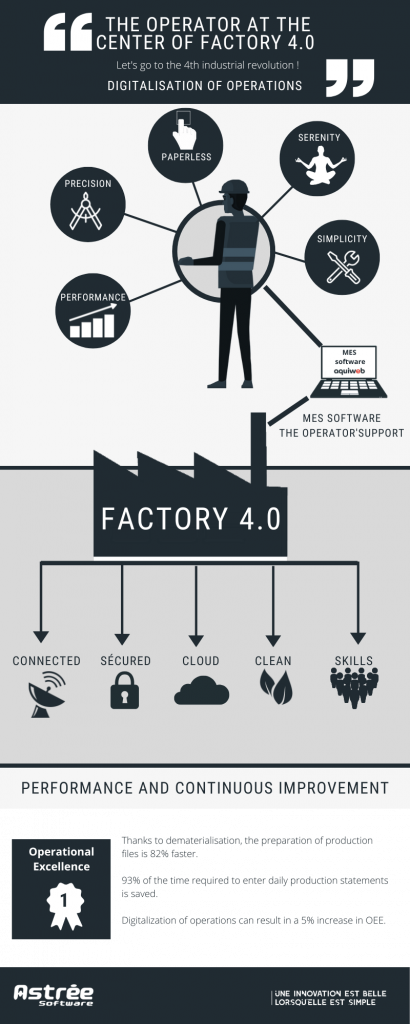 More informations
Read more on Usine nouvelle Webzine : Usine Nouvelle
More information on astrée-software.fr : industry 4.0, the 4th industrial revolution