Meet the
team


at Astrée Software

Dynamic, committed, motivated, simple, determined, open, innovative, attentive, etc. these are all terms that define the Astrée Software team.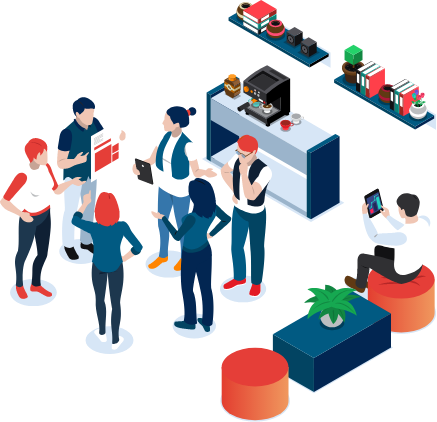 Collaborate. Share. Grow
"Innovation is omnipresent in the daily life of the team, and the lean startup is at the heart of the development of our offering."
A common vision
Our employees are the main players in the growth and success of Astrée Software. With an organization without hierarchy and the company's capital held 100% by the employees, each of them becomes a stakeholder and responsible for the progress of the company.
From Nantes, Lille or Saint-Etienne, whether a developer, a sales person or a project manager, each person works within their team to innovate and make Aquiweb one of the leading MES solutions on the market.
Our organization, without hierarchy, applies the principles of lean management. Based on continuous improvement, we aim for the complete satisfaction of our customers and the success of each of our employees.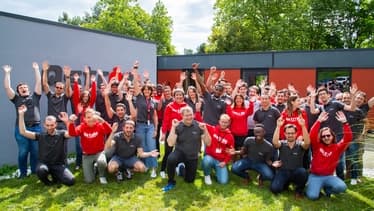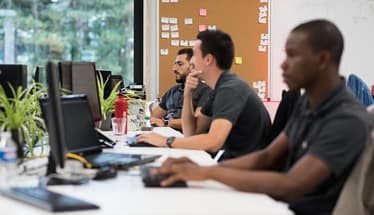 Deeply-rooted values
Commit
to a human and technical endeavor, where exchanges are of crucial importance.
Share
strong values of simplicity, commitment, quality and innovation.
Work
in a team that has a particular taste for work well done and for customer satisfaction.
Reconcile
a rewarding professional life and a fulfilling personal life.
Respect
our baseline: "An innovation is beautiful when it is simple."
Astrée is looking for new talent
Evolve. Create. Innovate
You may be interested in the following positions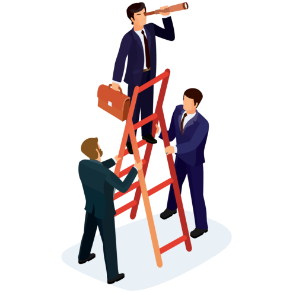 A broad cultural diversity
With an average age of 32, the Astrée Software team is enhanced by the background and experience of each of its members. Whether junior or senior, each employee puts his or her knowledge, experience and know-how at the service of others in order to create and innovate together.

Ability to integrate
50% of our employees are recent graduates who started their careers at Astrée Software.

Internal promotion
62% of our agile coaches have been developers or trainees. 30% of the members of the Executive Committee were trainees.

Agility for all
100% of the teams use agile methods on a daily basis.

Loyalty
A stable team with an average annual turnover of 4%.
Astrée Software
on the technical side
It is above all a team that shares a common taste for software and industry and that speaks the same languages of its time: JAVA, ANGULAR, Kafka, Microservices, Docker, Kubernetes, IOT, C#, CSS, javascript, HTML, etc.
At Astrée Software, we are committed to developing according to the precepts of eXtreme Programming, which combines agile methods with a Software Craftsmanship approach. For us, " it is not enough for software to be functional, it must be well designed ". To do this, we have put in place practices and tools to apply this maxim: agile cycles, OOP, Design Patterns, DevOps software factory, DDD approach, SOLID concepts, etc.
We attach great importance to the exchange and sharing of ideas between employees. The R&D Workshops (Innovation Friday) are, like the daily stand-ups, routines offering everyone a chance to reflect collectively on new developments or other areas for improvement.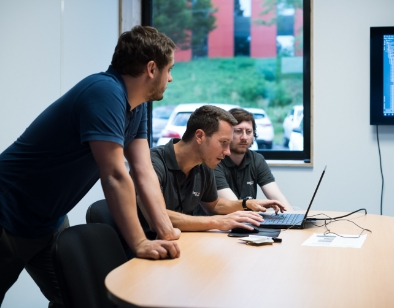 Experience Astrée
Astrée Software is committed to a philosophy of well-being in order to strengthen the ties that bind its teams and encourage them to give the best of themselves.
It is evolve, create, innovate and be proud of your company !
"More than a state of mind, a way of living and working together"
Astrée Software, fun side
Developing is good, developing in a space where you feel good is even better.
Astrée Software's offices are nestled in the heart of Métrotech's Green Park. Here, there are no parking problems (even for bicycles) or noise pollution : we chose to exchange the sound of car horns for birdsong. An outdoor terrace allows for lunches in the sun.
Inside, there are no partitions but two large open spaces where each team has a work island. Indoor or outdoor collaborative work spaces (weather permitting) are available for meetings. For breaks : two relaxation areas where tea and coffee are available.
And at noon, what do you do ?
At Astrée Software, gym enthusiasts have access to a room equipped with bicycles, weight machines and other instruments of torture. Walkers and runners can finish wearing out their sneakers on the paths near the office.
Those who like a siesta have the choice between the shade of the trees or the cushions of the siesta room
Java or Java ?
Sporting or cultural outings or simple games, etc., the evenings at Astrée Software are organized according to the desires and ideas of each person with only one aim : to share a good time together.
We switch to Off:
Every year, Astrée Software packs its bags for three days " off ". In the mountains, at the seaside, in the countryside, etc., three days to work differently but also to get to know each other better and to share a period of leisure and conviviality. It is also an opportunity for teams to perform on the paddleboard, canoe, ski or even soapbox or to compete in a treasure hunt or a "Survivor" experience, etc.
The Football Team
As a company based in Saint-Etienne, Astrée Software had to have its own football team. Created by the employees, sponsored by Astrée Software, Astrée FC carries our colors high on the fields near the Loire!