Flow and inventory management,

Aquistock module
The Aquistock module provides a real-time inventory and flow management solution from acceptance to shipment for raw materials, items, components and products. It also ensures complete dock-to-dock traceability and the ability to know in real time where the parts and batches are located.
The features of the Aquistock module
Linked to the ERP, Aquistock is ideal for real-time inventory management: it manages acceptance operations (with their checks), stock movements to or from production, and shipping. Aquistock manages all consumption to ensure comprehensive traceability of flows and real-time updating of stocks, in conjunction with the Aquitraca module. A real-time flow management solution, it allows you to control the flow of materials throughout the internal supply chain.
See the advantages of the module
1.
Acceptance management
Launching the acceptance (orders and acceptance lines from the ERP)
Traceability of the person and the place of acceptance

Verification of compliance with expectations (checks at acceptance in connection with the Aquiqual module), NCS
Batch identification
Breakdown of the batch into HU (Handling Units)
Labeling of HU
Assigning a HU to a location (stock entry)
2.
For operators, forklift drivers or warehousemen (on fixed or mobile station)
Simplified entries
Visual alerts
Assistance with execution
3.
Stock exits
Customer shipping
Return to suppliers
Emptying of a location
4.
Stock management
Real-time display of quantity inventory status by location
Movement history
Location of a handling unit (HU)
Aquistock gives you real time knowledge of the status of your warehouse and intermediate production stocks, as well as the real time location of products.
The advantages of the Aquistock module

Improvement of the organization of the workshop

Real-time inventory tracking with the possibility of triggering alerts in the ERP system in case of material shortage

Error detection on acceptance of components to avoid inventory errors

Total traceability of the workshop flows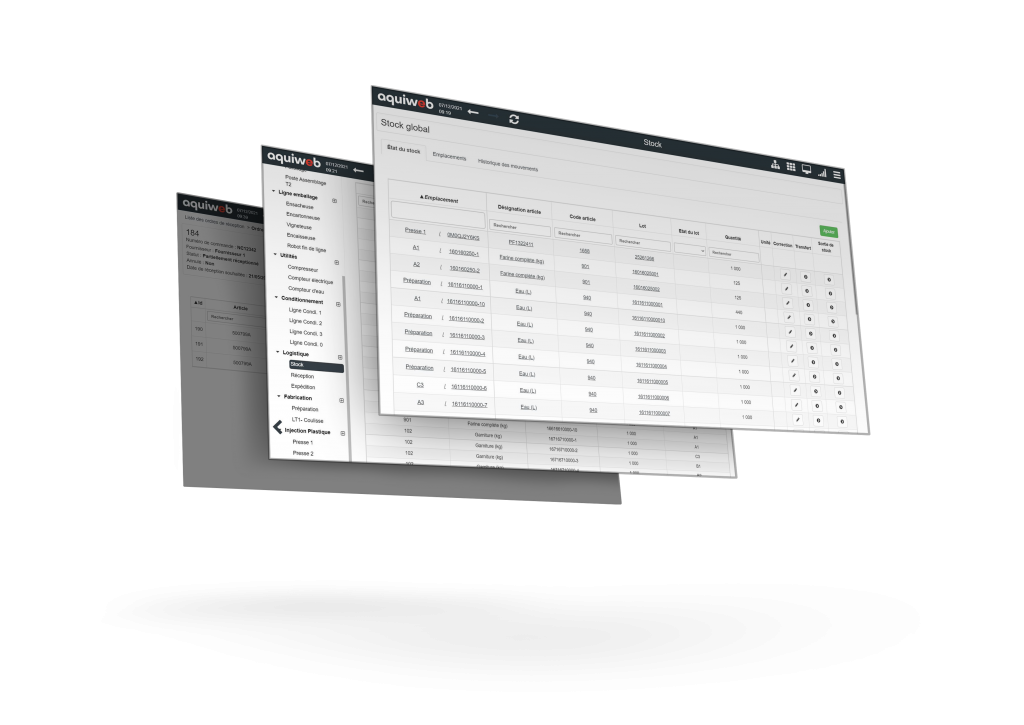 Discover our offers to optimize your production
We offer "all-inclusive" packages to allow you to launch your MES project, but also various modules to develop it, step by step.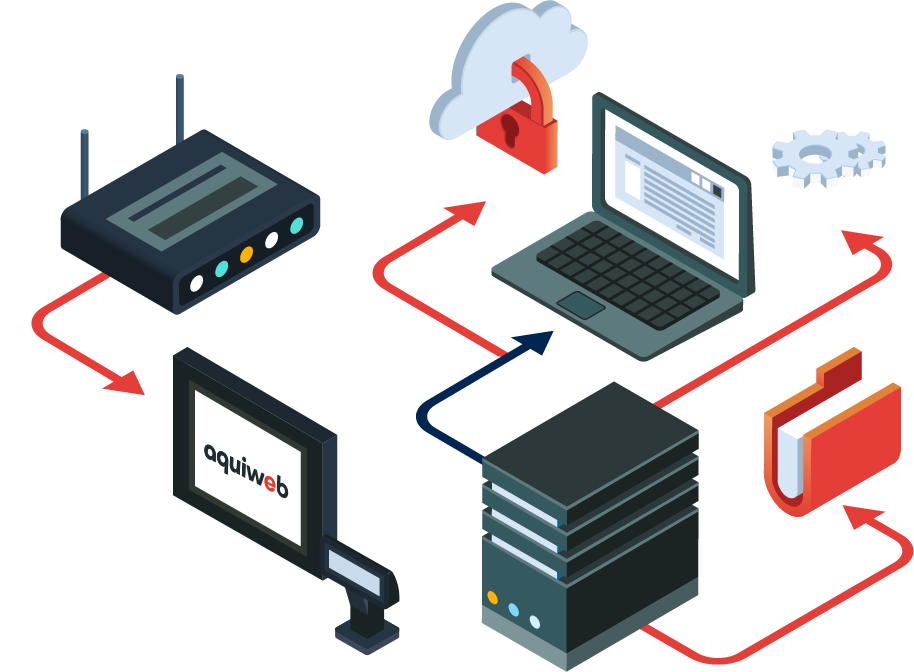 Other Aquiweb features
To meet your needs as closely as possible and guarantee scalability, the MES software for the Industry of the Future is marketed by module.

---
Products identification, building of product genealogy (link between component and products), statement control (Poka-Yoke).

---
Energy consumption real time controls, integration of the connection between production data and energy consumption data at all levels in production site control.